instead of creating your own subtitels in QBank you can also choose to upload your own subtitels to qBank. This article explains how that can be done.
IMPORTANT: This is and Addon in QBank, Please contact your sales representative if you would like to get more information about the feature.
If you want to upload your own subtitles to your videos in QBank it needs to be stored in SubRip (.SRT) format. Each subtitle line in a .srt file must consist of the following parts:
A first row containing only a number. This row indicates which subtitle it is in the sequence, starting with 1
A second row with the start and end time of the subtitle (in hh:mm:ss,ms - milliseconds are optional), separated by " --> "
The actual subtitle. Can be entered as multiple rows as well
A blank row indicating the end of the subtitle


Follow these steps to upload your own subtitle file
Upload the Video you want to add subtitle to in your QBank
Finish tagging the Video and Approve it to the Library
Click on the Video to open up the detail view
Click on "More" button in the panel above and choose Edit Subtitle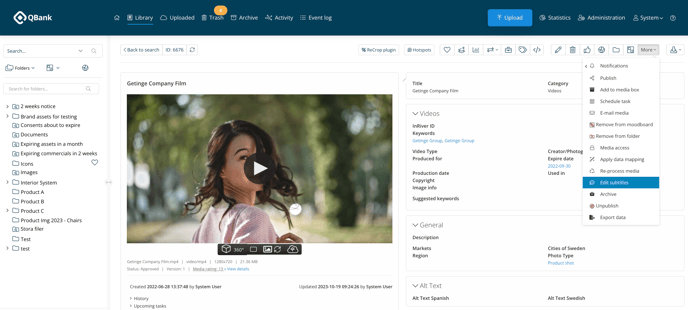 5. Choose current language on your uploaded file (in this example we have Danish subtitles)
6. Upload your SRT file. Subtitles in QBank are stored in SubRip (.SRT) format.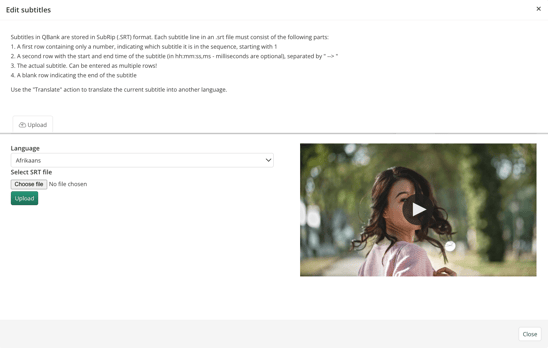 Use the "Translate" action Language if you want to translate the current subtitle into another language. Read more about how to translate here.